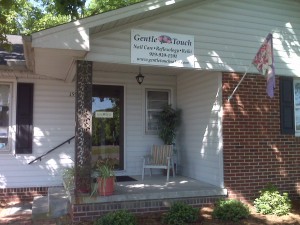 At Gentle Touch, you will be….
"Relaxing from Head to Toes!"
Enjoy a wonderful manicure or pedicure for relaxation, beauty or hand/foot care. Are you dealing with stress and uncertainty?  Schedule a Reflexology or Energy session. Sessions are always one on one with me.  I'm locally trained, N.C. licensed, and always involved in continuing education.  So, give me a call, email or text and let's schedule a session for you.  I look forward to meeting you.  My services are available and enjoyed by both genders.  Click on my email below to contact me now!
New Services available!     
Check it out the "Menu of Services"
Gift Certificates Available
919-939-1591
1556 Hwy 56/Lake Rd., Creedmoor, NC 27522
In August a Second Location in Wake Forest, NC
Real Living – Pittman Properties (Realtors), 2000 South Main Street
NC. License #M12318
Certificated Reflexologist #27730
(International Institute of Reflexology – Ingham Method)
Certificated Reiki Master/Teacher

Now Available Card Processing!